PROCONECT French manufacturer, has been designing, developing and selling industrial connectors, distribution boxes for 40 years, especially for ship to shore market.
Our industrial connectors and sockets can supply all types of boats (civilian and military) and heavy industry.
PROCONECT develops the range of connectors dedicated to the Eshore market and offers solutions according to the international standards: IEC 80005-1, IEC80005-3, IEC62613½, IEC60309-5.
Our products are tested and certified for low and high voltage applications (up to 24000 V), from 16A to 800 Amps - (IK 08-10/ IP 66/67).
ISO 9001 certified since 1998, PROCONECT is also registered as NATO supplier.
In order to always offer high quality products to its customers, PROCONECT spends a large budget every year in various tests in official laboratories like LCIE
Proconect is present in over 40 countries with its international distribution network.
News
SEA ASIA 2023, April 25-27, 2023, Marina Bay Sands, Basement 2, Singapore, Hall
D-F, Stand B2-F02.
Organized by Informa Markets and the Singapore Maritime Foundation, Sea Asia is having its 9th edition, from April 25 to 27, 2023 at Marina Bay Sands, Singapore
Sea Asia is recognized globally as the leading platform for the maritime industry to interact with key players from the European, international and local ecosystem in Singapore.
Singapore Maritime and Sea Asia 2023 are all about new maritime technology innovations, global maritime industry challenges, offshore and maritime sustainability.
Proconect participates in this event co-organized with the French Pavilion, the French Chamber of Commerce in Singapore (FCCS), Team France Export.
On the French PAVILION, Proconect presents its electrical connectivity solutions (medium and low voltage) for the Eshore in international ports.
Electrical connectors for ships at berth, dry docks and all types of vessels based in Singapore and internationally.
Our Partners: Cluster Maritime Français, Pôle Mer Méditerranée, GICAN.
Link to receive your invitation online:: https://lnkd.in/gPzbVNb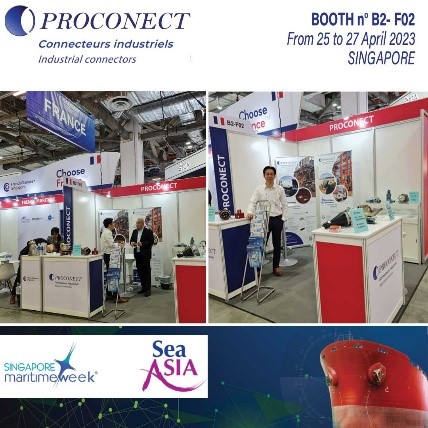 ---
SIFER 2023, 13TH INTERNATIONAL RAIL TECHNOLOGY EXHIBITION, AT LILLE, GRAND PALAIS, FRANCE, From 28th to 30th March 2023
As part of the TOTEM Cluster railway show, PROCONECT will exhibit at SIFER 2023 March from 28 to 30, in the heart of the central pavilion of the Occitania Region with the support of the economic development agency AD'OCC.
PROCONECT invite you to meet us there, to discover the new electrical solutions, plugs for on-board equipment, such as the connector for external three-phase power supply system for 125A/400V railway vehicles. The 3PX3 socket, which complies with the EN50546 standard, is dedicated to the preconditioning of trains: tramways, metros, EMUs (FR: self-propelled trains), high-speed trains, etc.)

For your railway applications, we offer you solutions for your platform connections, with these certified connectors: 3PXU - HIGH POWER 3PX5 - INTER CAR-BODY, 3PX3 – PRECONDITIONING.

Proconect is the provider of railway solutions for today and tomorrow.

Our electrical outlets meet railway requirements and standards of the railway industry : EN50546

GET YOUR TICKET FOR SIFER 2023 HERE : https://shop.sifer-expo.com/mbe/sifer23



PRESENCE OF PROCONECT AND OUR PARTNER MINILAMPE AT SIFER 2023
RAILSWAYS SOLUTIONS' PROVIDERS FOR TODAY AND TOMORROW
INNOVATING AND EMPOWERING THE RAIL INDUSTRY THROUGH THE ELECTRICAL CONNECTION OF TRAINS
New innovative equipment with the 3P3 socket for on-board equipment (EN50546 standard).
The socket for on-board equipment, with the EN50546 standard, is dedicated to the preconditioning of trains and can be used on all types of trains: (trams, metros, EMU (FR: self-propelled), high speed, etc.). The connection guarantees a fast and secure implementation. This EN50546 connector allows the train to be connected when it is stopped, during maintenance operations, in a station or in a workshop (three-phase - 400 V). In addition, this electrical socket is designed for regular use and allows a large number of electrical switching operations and connections. We are the complete solution provider for the railway experience with our connectors that meet railway standards and requirements.
---
WMW WORLD MARITIME WEEK, BILBAO, FROM 21 TO 23 MARCH 2023
International meeting on Naval, Fishing, Ports and Ocean Renewable Energies– Bilbao - Espagne – 21-23 March 2023
Proconect will be present at the WMW (World Maritime Week, Barakaldo 21-23 March 2023), where we will be delighted to welcome you at our Proconect Booth: D-10.

International meeting on naval, fishing, port and ocean renewable energies.
We look forward to talking to you at this event!

Location: Bilbao Exhibition Centre; Azkue Kalea, 1, 48903 Barakaldo, Bizkaia, Spain
Link stand : https://urlz.fr/kYYf
Link WMW World Maritime Week : https://wmw.bilbaoexhibitioncentre.com/en/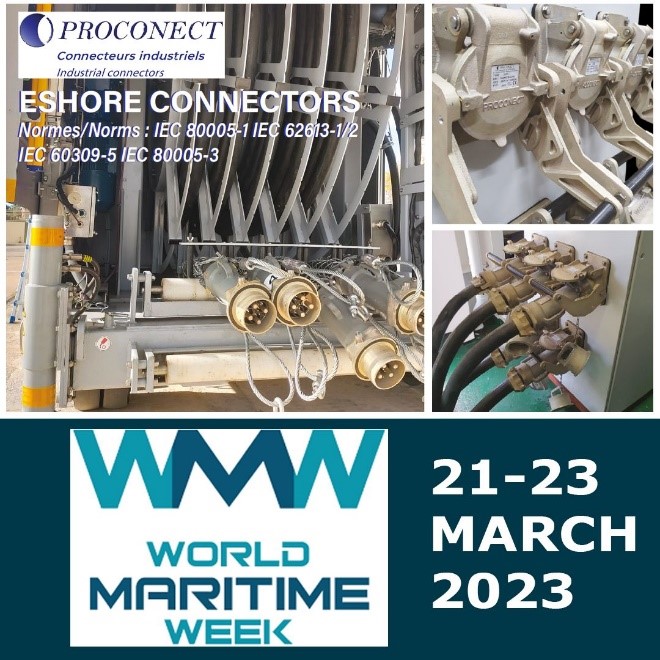 ---
6TH EDITION OF NAVEXPO - 15 > 17 MARCH 2023 – TRADE PORT OF LORIENT, FRANCE
NAVEXPO is a national trade show dedicated to the shipbuilding/repair and the maritime sector
Proconect will be present at this innovative exhibiton and largest exhibition largely dedicated to ship to shore connection.
Port equipment
From the analysis of the need, to the design and to the realization, Proconect builds connectors and industrial plugs that can supply power to all types of ships (military and civil) and heavy industry.

STANDARDS : IEC 80005-1 /IEC 62613-1 / IEC 60309-5
We will present the range of industrial electrical connectors, such the plug for container ships 3PX5 - MV / 350A -7,2 Kv / IP67 - IK10 / IEC 80005-1 - Annex D / IEC 62613 - Annex I.
We market metal sockets and plugs for cruise ship power supply, ferry power supply, ship to shore low voltage, polyamide or corrosion resistant metal sockets & plugs and other connectors.

🆕 Introducing our connectors : industrial connectors, cabinets, distribution panels and solutions.
🤝 Meet you at the Trade Port of LORIENT – South Brittany – FRANCE, stand 37.
👉 Link to register and receive your invitation online : http://navexpo.com/fr/le-salon/s-enregistrer-visiteurs